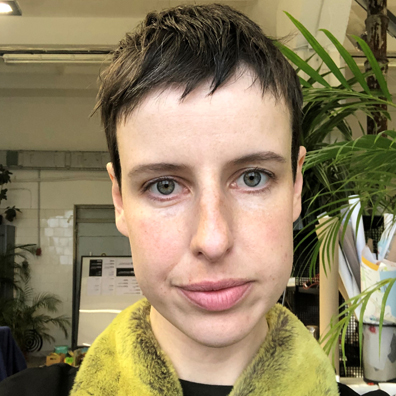 Brit Pavelson
Disciplin: Grafisk design & Illustration/ Visuell kommunikation
Stipendieår: 2020
Nominerande institution: Konstfack
Nomineringskommitté:
Johanna Lewengard, professor, Sara Teleman, professor
Stipendiestiftelse: Jubelfonden
Kontakt:
Stipendiemotivering:
"To my grandmother, who is an excellent needle worker, but doesn't know she is a mathematician". På svenska: "Till min mormor, som är en skicklig sömmerska, men som inte vet att hon är en matematiker". If you look at Brit Pavelson's patterns from close, this kind of messages will appear, like whispers from one generation of women to another. Working women whose labor is most significant but rarely recognized as professional.
Brit's collection of patterns are examples of advanced visual craft in which there is no clear distinction between the mind and the hand, between thinking and making, between logic and emotional labor. Being inspired by vernacular dresses from her childhood and the streets of Tallinn, she brings anew the care and honor of this tradition of pattern making. As well as the craft of making patterns requires knowledge and sensitivity to details, it requires repetition and strict calculation — a most lateral process that Brit came to master with excellence.
 Brit Pavelson graduated from the Graphic Design program at Gerrit Rietveld Academie in Amsterdam 2010. In 2015 she made works for the Estonian Pavilion at the Venice Biennale and in the spring 2020 we are happy to graduate her from the master program Visual Communication at Konstfack in Stockholm. This scholarship goes to a fully flourished graphic designer and an artisan who show us the importance of care throughout each and every step of the creative process.